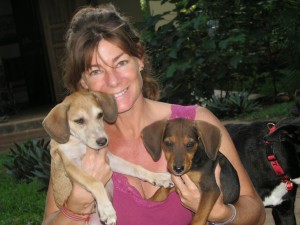 Welcome to the 1st post for the "Hope 4 a Street Dog" project.  I wanted to share a little more information about my vision for this project, as it is always evolving as I learn more about the needs of the Street Dogs.
My mission: Quite simple actually.  To be able to create an ongoing resource funded by Junquillal and the surrounding communities as well as outside supporters who share the passion of helping Street Dogs. This fund will be used help pay for and/or supplement spay/neuter clinics, sponsor dogs in need of urgent medical care, and to basically relieve as much suffering as we can.
Since arriving late October I have been very busy building a team of volunteers to help organize the 1st spay/neuter clinic sponsored by "Hope 4 a Street Dog"!  We have our local vet, Dr. Rosa who is an amazing support system allowing us access to much needed antibiotics, pain medication and deworming all at cost.  We have a vet hired from San Jose who will arrive on December 9th to prepare for the clinic on December 10th.  We are hoping to alter between 50-60 animals that day!  She is quick, clean comes with a team of 2 vets and 2 assistants.  We are excited to be a part of this experience.   We have hung our flyers, we have gone down all the back roads, talking to the locals, convincing them of the need to spay/neuter their pets.  We are hoping most are in agreement and will bring their pets.  There are also dogs that we have found that need medical attention.  We've created a list in hopes to help them out in the near future.  There are litters of puppies that need to be taken care of and homes found for.  We've given food to the mama's that are trying to nurse pups.  We've also given antibiotics to low/no income owners for their dogs that have the dreaded "tick fever".

Here is Nala and Sophie… their mom was hit by a car when they were younger.  They were both placed in separate homes, but both neglected, emaciated, full of parasites (inside and out!) and needed a 2nd chance!  "Hope 4 a Street Dog" took them in.  They received much needed medical care, several baths, good food, TLC and they thrived!  The best news…. they will be put on a plane with their new owners and be the queens of Cocoa Beach, FL! 
Please like "Hope 4 a Street Dog" facebook page too for even more pictures! 

Stay tuned for more!