Meet Our Volunteers
Our volunteers make it possible for us to find homes for the dogs that we rescue. We are grateful for everyone who is part of our team and for the important role that they play in helping our canine friends start their journey to a new life. If you are interested in volunteering, you can find out more here. If you would like to become a foster family, you can learn more about fostering here.
---
Siobhan and Greg
I decided to foster late in 2015 after being dog-less for about 5 months.  I thought fostering would be a good way to step back into the dog world after losing my beloved Dozer, a Great Dane, in July.  Fostering also became a great way to give back to the community. With a little time and patience, I was able to help better the life of an animal that, up until they landed in my home, hadn't been given much love or attention.
My boyfriend, Greg, has come along for the proverbial "fostering ride," helping out when he can and taking the brunt of the slobbering kisses.  We've fostered three dogs since December 2015, each with their own personality.  We've learned a lot along the way about patience, understanding and sacrifice.  Fostering is not an easy task.  You have to be willing to sacrifice a little bit of what you have in order to give your heart (temporarily) to a dog that needs it.  We continue to foster and coordinate fosters because there's a need.
If I have a few spare minutes a day to provide a foster with support, take a dog for a walk or organize a transport, than I will.  It's much more rewarding than sitting around watching TV!  Maddie was our first foster and the hardest to let go.  But, I'll tell you this… there is no better feeling than finding the perfect home where your foster can thrive and blossom into a lifelong companion, bringing joy to so many people.
Photo: Siobhan and Greg with Ramona, their favorite rescue dog (so far).
---
Emily
When I adopted Toby, I was working as a veterinary technician and thought I was prepared for anything he could throw at me. It turned out that he had severe separation anxiety, which is probably how he ended up as a stray. His last owner wasn't equipped to deal with it. Going through the process of helping Toby overcome his anxiety changed the course of my life.
I became a professional dog trainer ,and started my business A Click Away Training, with an interest in helping keep dogs out of shelters by making them the best family companions they could be. I began working with several shelters and rescue organizations providing training and behavioral support to adopters, and to foster dogs in need of a little extra help to make them adoptable.
I now have two rescues in addition to Toby, both of which have their own issues. Callie is hearing and visually impaired and Fisher in a cruelty survivor with only three legs. I wouldn't trade any of them for the world. A rescue dog is thankful for your love and will give back everything you put in to them 10 fold. Every dog I help to train and rehabilitate has a special place in my heart, and I look forward to continuing this work for years to come.
I offer $25 off initial training and behavior consultations for all Long Trail Canine Rescue adopters. You can find more information at: www.aclickawaytraining.com.
---
Martha & Kevin
We adopted our first Long Trail Canine Rescue dog (Jeb) in 2012 and our second (Pepper) in 2015. Both dogs came from a shelter in South Carolina. Both great dogs! Then we started following some South Carolina shelters that LTCR partners with on Facebook. We were shocked by the number dogs that end up in those shelters. Some of the dogs have endured cruelty and neglect prior to arriving at the shelter. We wanted to do more to help these dogs! They deserve a loving home. That is why we decided to become a foster home. We can help more dogs get out of the crowded shelters and get ready a new life. We provide lots of love, a soft bed, good food, walks, playtime with our dogs, and a chance to unwind. Each dog has its own unique personality and it is fun getting to know them and figure out how to best help them grow. The foster dogs give us an incredible amount of love in return. We feel kind of sad when they leave us for their forever home but we are joyful that they are starting a new life!  Sometimes we get updates and photos showing how a dog we fostered is enjoying their new home and family. It is so rewarding to know that we played a small role in their journey.
---
Eva
I have always been an animal lover and nurturer at heart. I had been thinking of fostering for a while and one day while hiking, fate brought me together with a sweet dog named Seager, who had a "Rescue Dog" tag on his collar. I found out he was being fostered and found my connection to Long Trail Canine Rescue and have been fostering for them ever since!
I love each and every dog and they become part of our extended family. I love knowing that I am helping that dog find his way to a new life and opening up more space for other dogs in the shelters. I love that I am able to share my home and my good fortune with my foster dogs and that my dogs get to have new playmates to keep them company.
It can be challenging and even heartbreaking to let go of a foster, but I know I am here to help them move on to their forever homes and that reward makes it so worthwhile. It has been a great lesson in letting go, in service, and in selflessness for both me and my teenage son. I love watching him care for and bond with our fosters, showing so much love and compassion. It has truly been one of the best and most rewarding experiences of my life and I hope it has shown my son how wonderful volunteering and giving back can be – it's a great opportunity for the whole family!
---
Margarete Couture
I am honored to foster dogs for Long Trail Canine Rescue. I first heard of LTCR when my niece, Jill adopted her puppy Lily from them. I liked their Facebook eager to learn more about them. Months later I saw a post requesting fosters and I responded. Shortly after that I fostered my first puppy, Ace.
Fostering dogs brings joy to my life. I am so moved by the dogs that have spent time in my care. I see my role as the human that assists foster pups gain confidence and the skills they need for their forever home. Each dog that has passed through my life has taught me something about their nature and my heart.
Every dog has been a favorite. Starkey was a dog that needed to get out of the shelter before Christmas. He came to us a frightened pup with a huge heart. He won both my dogs and husband over in a few days. How sad it would have been if he had been put down! Within in 6 weeks he found his forever home in Vermont where he is loved and has acres on which to run and play.
Fostering dogs has connected me to many other caring human beings especially the transport folks who compassionately bring dogs safely by car or plane so they can begin their new life! Nothing melts my heart and brings tears to my eyes as when a new foster dog is handed to me.
Thank you to LTCR for saving dogs.
---
Melissa
I started fostering after an orientation meeting at the local humane society. I realized that volunteering at the humane society just 'wasn't enough' for me. I wanted to do more, impact more, help more.
A good friend had been fostering through Long Trail Canine Rescue so I inquired about what that really meant to be a 'foster parent'. Most importantly I asked the most frequently asked question that any foster parent gets, 'but isn't it hard to give them away? don't you just want to keep them all?'. The answer was; of course it is hard! But, like most things, the things that are the hardest are the things that are the most important.
I filled out an application to be a foster parent immediately. After my first foster found her forever home I had to change the way I looked at 'giving them away' and reframed it in my mind. I now believe I am just a bridge between where they came from to where they get to go.
You always remember your foster dogs. I keep in contact with the families that have adopted them and love seeing photos, videos and hearing stories of the antics and adventures that they star in. The photos, adventures and lives that they wouldn't have if I hadn't fostered!
My husband agreed to foster because he knew how important it was to me, but the foster that has forever changed mine and my husband's lives was Lou. After fostering Lou, he now sees how important it is to give dogs a chance. Give dogs a chance to know what family, love, trust and security are. Dogs that were in a shelter, scared and alone now get to take the freedom trail ride to Vermont to sleep on a fleece blanket in the sun with a full belly and know that they are finally safe.
---
Sally
It hasn't even been a year since the veterinarian looked apologetically into my eyes and gave me the bad news – our Bailey was not going to make it.  There was nothing the vet could do for the poor guy including keeping him comfortable for more than a few days.  We were, still are, and will forever be heartbroken when we think about our guy of 12 years.
I knew it was going to take a very long time before I would be able to give my heart to another dog, but I really missed having a four-legged member of the family.  Enter Long Trail Canine Rescue – I had known folks who volunteered with them, and they told me many good things!!
I know that many people are hesitant to foster because they don't think they will fall in love with him/her and won't be able to let them go.  But, for me, I knew that wasn't going to be a problem.  My heart still belonged to Bailey!  At first, I transported dogs for them and I hosted dogs overnight on their journey to their future.  That was good for me and I didn't feel like I was betraying Bailey.
After a little bit, my husband and I decided to try to foster one dog, and we got a GREAT one – Miss Daisy!  Little did I know that they are ALL GREAT!  What a treasure she was, and lo and behold, I still had enough room in my heart for more fur-friends.  She was a love, and within a week had an adopter.
I wasn't sure how I was going to feel, but I took her to the meet n greet anyway.  When she met her new Mom and Dad, she was a little shy, but OH BOY, when she met her new fur-sibling Psyche that was all she wrote.  They were ABSOLUTELY perfect together!  I had never seen anything like it in my life!  As Mr. Gump says, "they were like peas and carrots!"
Then came Tigger – a toy poodle who had been found in the woods by hunters and found his way to me.  I was going to foster him, and my mother met him.  He is the perfect dog – calm with energy, perfect house manners, and gentle but can hold his own with other foster dogs.  That was all she wrote – he is still part of my extended family!  AND (drum roll please) I was hooked!
I love my work with Long Trail!  If I can't foster sometimes, but still want to help, there is always something to do.  So, I just ask!
---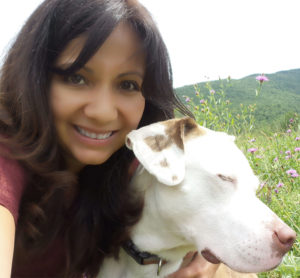 Monica
I decided to give fostering a try in the spring of 2014. My greyhound Kuzco had died the year before, and although I wasn't quite ready for a full commitment, I was missing canine interaction. So I thought that fostering was not only a great way to get my fix, but I also loved the idea of helping save lives. My first foster dog had heartworm disease and was skin and bones. I cannot describe how rewarding it was to help her heal, gain a healthy weight, and become comfortable enough to let her personality shine.
So far, I've fostered eight amazing dogs. Yes, they did take a little piece of my heart when they left, but it makes me incredibly happy to know that each of them found a caring and loving home. And yes, one of them became a foster failure.
A couple of years ago, I had to move, and unfortunately, I am not able to foster at my new place. But seeing with my own eyes how many deserving dogs LTCR has rescued from overcrowded shelters, I wanted to find a way to stay involved. So now I help with marketing, awareness, dog transportation and representing at events.
Photo: Monica with Pacha, her foster failure.