Recently Adopted Dogs
These dogs have now found their forever homes. We have hundreds of wonderful adoption stories.
For more adoption stories, follow us on Facebook!
See All Dogs Available for Adoption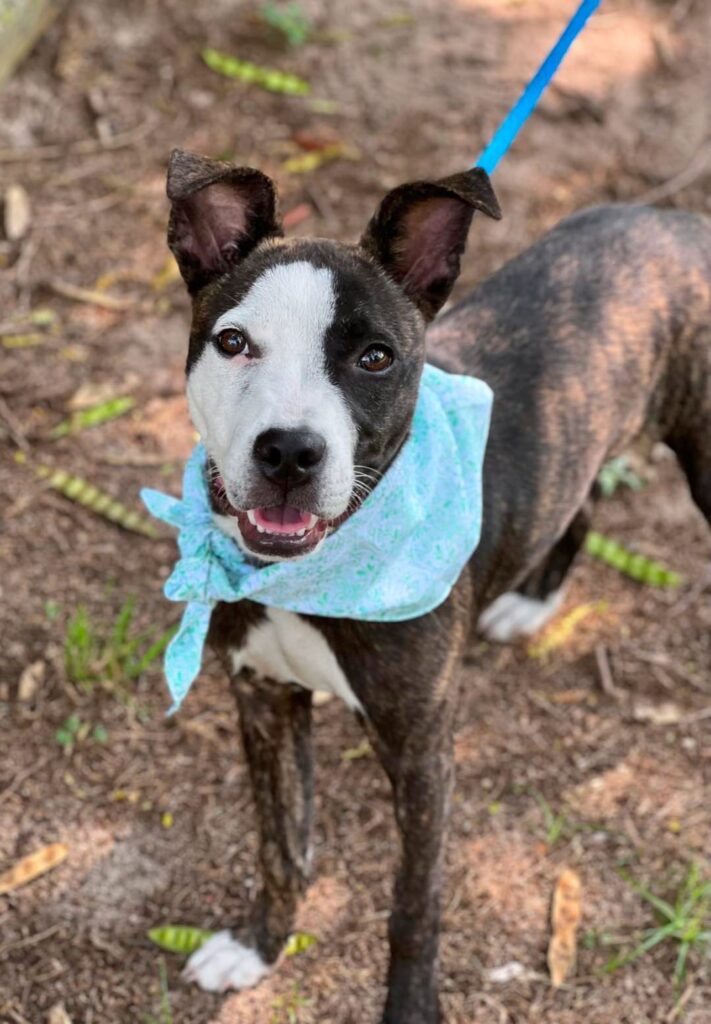 Additional Information
Female
Short Coat
Spay/Neuter
House Trained
Vaccinations Current
Dog Friendly
Cat Friendly
More About ELLE
ELLE (fka Peanut) has settled in nicely with her foster family and is now ready to find her BFF!
She is a beautiful brindle with some unique facial markings and soulful eyes on the outside and as beautiful and edearing on the inside! She's 8 months old and even though she spent some time in the shelter, she has left those days behind, and living each day to the fullest with her happy, waggy ways.
Elle is currently about 30 pounds with an expected adult weight of about 40. She currently lives with another foster canine sibling and with his help, has done a great job learning both social manners and good house manners.
Elle is housebroken, crate trained, already has decent leash skills and recall! She is a people pleaser and always looking for direction. She LOVES to play with her foster sibling and always engaging with new dogs she meets inviting them to play. She would love to have a canine sibling in her own family to romp around, play tug o war, chase balls, or just lounge around with. She loves to be chased or will be happy to turn around and do the chasing!
Elle has met some feline friends and would do fine with a dog savvy kitty who understands her play bows means she wants to play. Proper supervision, rules and boundaries should be implemented while they learn about each other.
She's a natural when it comes to meeting new people and pups. She gently takes treats from people wanting to say hi and is a pleasant greeter to visitors in the home. She has a remarkable temperament and can adapt to a variety of lifestyles as long as there is fun involved and maybe a good game of fetch!
Elle is described as having medium energy. She is still a puppy and needs a structured routine including down time in between her energy outlets. She currently rotates with playtime and downtime which has worked out well for the other pup in the home as well. Elle does great with naps in her crate, or a cuddle session on the couch. She's experimenting with water, loves splashing around in the puppy pool and probably will be swimming in no time!
Elle also does great around older, respectful kiddos. She gets a bit too excited for the younger kiddos and would easily knock them over in her blissful state of happiness, so respectful kiddos over 8 would be ideal.
Daily snuggles are a must have for Elle. She will roll over for a belly rub for anyone willing to accommodate. Sleeping on her back is one of her favorite ways to ensure anybody passing by has free access to that belly!
Elle has been taken on a few car adventures and she does well in the car and enjoys the ride. Some other basic skills include sit, down, some recall and re-direction.
Her foster mom says, "Elle is truly a sweet, sweet girl and will be great in any home. She is eager to please, wants to be with people and happy doing whatever it is that they want to do with her- whether that is on the couch, hanging out outside or going for walks/hikes. She is just happy to be doing anything with people.".
It would be wonderful for Elle to have a mature, balanced canine mentor to continue teaching her the ropes about manners, communication and play. She's done really well with her foster sibling and has already learned some good social/play qualities from him. She has a great attitude about acquiring new interests and trying new things with her person by her side as her coach.
Elle's looking for a lifelong partner in life… is that you?
Elle is ready to entertain approved adopters in South Burlington!
All applications will be sent to her foster mom to be in touch!
https://longtraildogs.org/adoption-application/