Recently Adopted Dogs
These dogs have now found their forever homes. We have hundreds of wonderful adoption stories.
For more adoption stories, follow us on Facebook!
See All Dogs Available for Adoption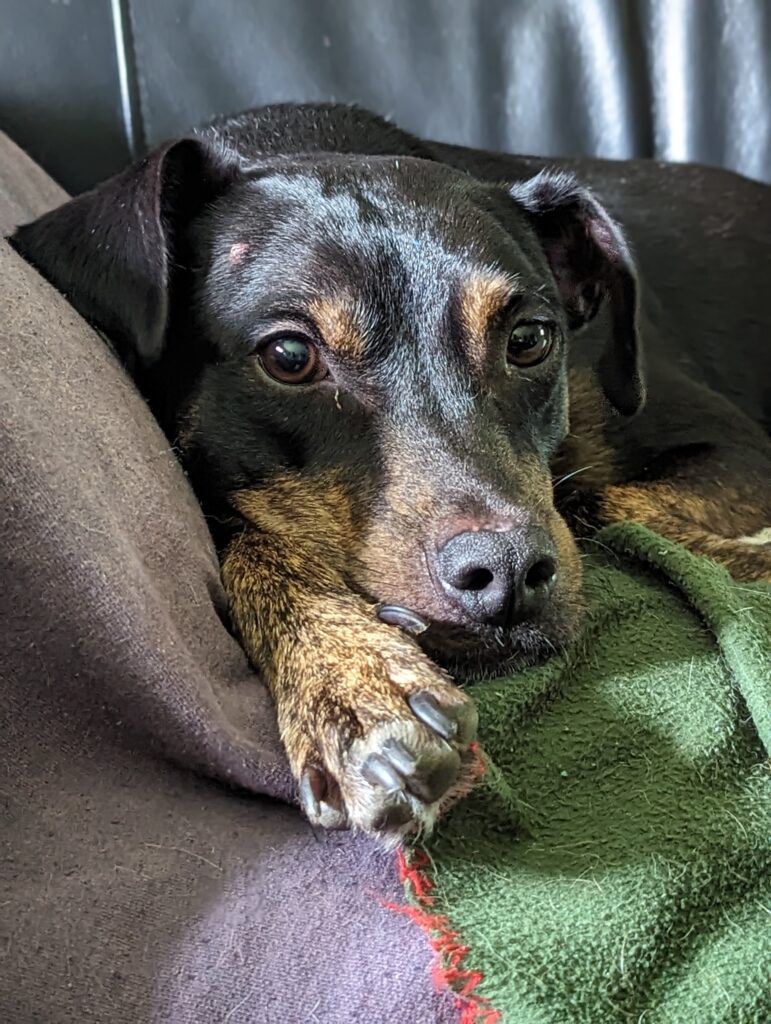 Additional Information
Male
Short Coat
Spay/Neuter
House Trained
Vaccinations Current
Dog Friendly
Cat Friendly
More About SOLITO
Don't miss out on this guy!
We have another amazing ZAGUATE (Costa Rica super mutt!) available for a family ready for gem of a pup! SOLITO is a kind, gentle soul that lived with a family in Costa Rica that did not appreciate the kind soul that he is as they were looking for a guard dog, so this "little lonely" one was finally surrendered to rescue.
We were sooo happy about this, knowing we could change the future for this amazing little soul. With lots of planning, he made his trip to Vermont, held his head high and ready to show the world how perfect he can be.
He has been in a wonderful foster home here for a couple months learning how to be a stellar Canine citizen and has done a wonderful job absorbing and learning how lovely it is to be part of a real family.
Solito has excellent house manners and although he's crate trained, he has earned free roam and would love to join his new family for bedtime cuddles. He is a good walker on the leash, loves meeting new people and social, friendly calm dogs. He enjoys walking downtown, taking in the sights of people and other downtown happenings. He is working on recall skills and is doing good in low distraction areas.
Solito enjoys playing tug with toys and wrestling gently with his foster siblings. He does not particularly enjoy a very rough and rowdy, or growly play style. An deal playmate would be similar. Solito is happy to play and share toys with other dogs and gentle with kiddos.
Solito currently lives with kitties! He could absolutely be in a home with cats; he'd like to be friends with them and is very polite and respectful of them. He will not chase, just respectfully co-habitates.
Solito has a medium energy level and is happy to hang out while foster mom works at home or hang on the couch in the evenings. He would enjoy a few daily adventures, getting out to explore the world, but doesn't need intense hikes or energy outlets.
Solito is about 3 years old and is a nice sized pup at 30ish pounds and is very good and respectful with people and respectful, calm kiddos. He plays fetch nicely with a 4-year-old and happy to curl up on a lap for a quality petting session. Did we say he LOVES cuddles? He will specifically seek out high-contact cuddle time. If he could spend the evening on the couch with you, half in your lap, just being petted constantly, he'd be in heaven! Belly rubs, head pets, it's all good for this sweet guy.
Solito's foster family has taught him Sit, Wait/Stay, Bed (like go in your crate, or on the dog bed), come. He learns VERY quickly and would be fun for someone who wanted to teach a pup a lot of tricks, or agility, etc.
FAVORITE GAMES? Solito really enjoys any sort of throw/fetch games - stick, ball, toy, whatever! Ultimately, his favorite game is just hanging with his people. He loves to play with you - tug, or fetch, or any fun game you want to teach.
This little Zaquate is really a great family pup. Solito is a polite, well mannered, all around good little guy. He's happy with cats, kids, other dogs, and generally just a perfect dog! Considering he's from Costa Rica and that his coat is VERY short, and he's already a little chilly on a 50-degree morning here in VT, his new adopter will need to be prepared to build out his winter wardrobe!
Solito is a pretty adaptable pup, and he'd love to be able to be with his person more than alone. Solito would be one of those dogs that could easily, and would be happy to come to work with you! He'd be content being the star of the show and only spoiled dog, or with a respectful, calm dog buddy.
He'd enjoy a moderately active home - where he can get daily walks and maybe an adventure on the weekends but does not need to run 10 miles a day to be happy! If you can devote some time each day for a sniffari walk, throwing a ball, or learning a new trick, Solito will be all good.
Overall, Solito is the perfect pup - very happy go lucky and snuggly! He will make a great addition as a furry family member.
Solito is being fostered in Barre, VT
To learn more, please fill out our application which will be forwarded to his foster mom to be in touch.
https://longtraildogs.org/adoption-application/