Recently Adopted Dogs
These dogs have now found their forever homes. We have hundreds of wonderful adoption stories.
For more adoption stories, follow us on Facebook!
See All Dogs Available for Adoption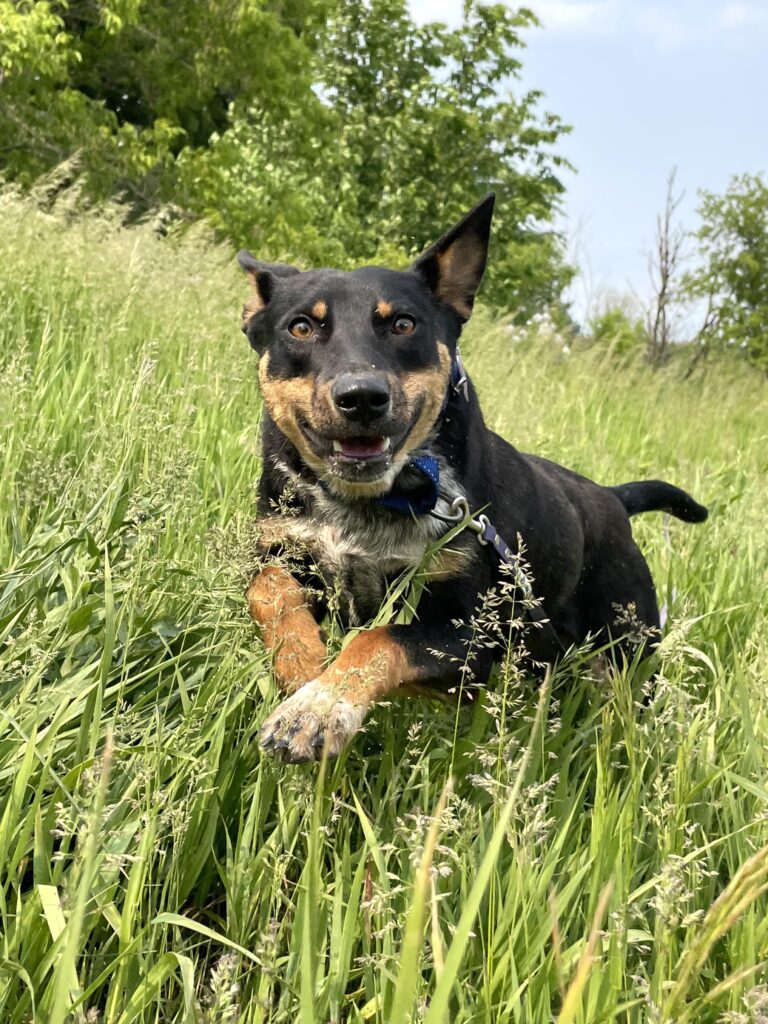 Additional Information
Female
Medium Coat
Spay/Neuter
House Trained
Vaccinations Current
Dog Friendly
Cat Friendly
More About ALI (ALICE)
An ultimate companion named ALI (ALICE) is ready to interview a family looking for a full-time side kick. She is a nice size package of 35 pounds that comes with lots of skills already under her paws. Ali loves people and kiddos of all ages and sizes and is a respectful greeter. She has some pretty great leash skills and enjoys daily walks in a variety of different environments.
Recall skills are still in the works, but the implementation of a long line has been a great tool for teaching her. She loves tall grass and hopping through like a bunny, and hunting for bugs. She is curious about birds, cats, and squirrels while out on a walk, but does not desire to bark, lunge or chase, she just respectfully watches.
Ali bonds quickly with her people and enjoys having a coach as she journeys through the daily activities. She does great in public places knowing her people "have her back" and will make the right decisions for her. Her "job" in public is to stay close to her people and neutral to others, including people and dogs. She is your sidekick and although respectful, she's not a social butterfly, which is an ideal skill to already have mastered. Back at home, her social butterfly comes out and enjoys people, kiddos and other respectful dog friends.
Ali is crate trained but could easily earn free roam of the home after acclimated to her new peeps and environment. Ali is respectful of feline friends and would also do great with another friendly, respectful canine sibling. We would describe Ali as a medium energy dog and she has a great skill of matching playstyles of the dogs in her company. A big box of squishy toys in the home would be a favorite way to spend some solo quiet time, or playtime with another kiddo or pup! Is she a snuggler? Absolutely! Grab a blanket and curl up with this perfect sized cuddle monster.
Helping with daily chores would be the best part of her day or co-piloting to run errands. Field trips are another favorite way to pass time But the best???….. is just being the sidekick she was meant to be, your best friend with wide open ears to tell your secrets to, or sitting overlooking natures beauty, splashing in a local river, someone to talk to in the car, tell bedtime stories to, or catch up on a good Netflix series, Alis' your girl. Ali will absorb every bit of energy you put into your partnership and the lucky family will reap the benefits ten times over.
Ali is being fostered in Essex Junction, Vermont and would be thrilled to meet approved adopters!
https://longtraildogs.org/adoption-application/