Recently Adopted Dogs
These dogs have now found their forever homes. We have hundreds of wonderful adoption stories.
For more adoption stories, follow us on Facebook!
See All Dogs Available for Adoption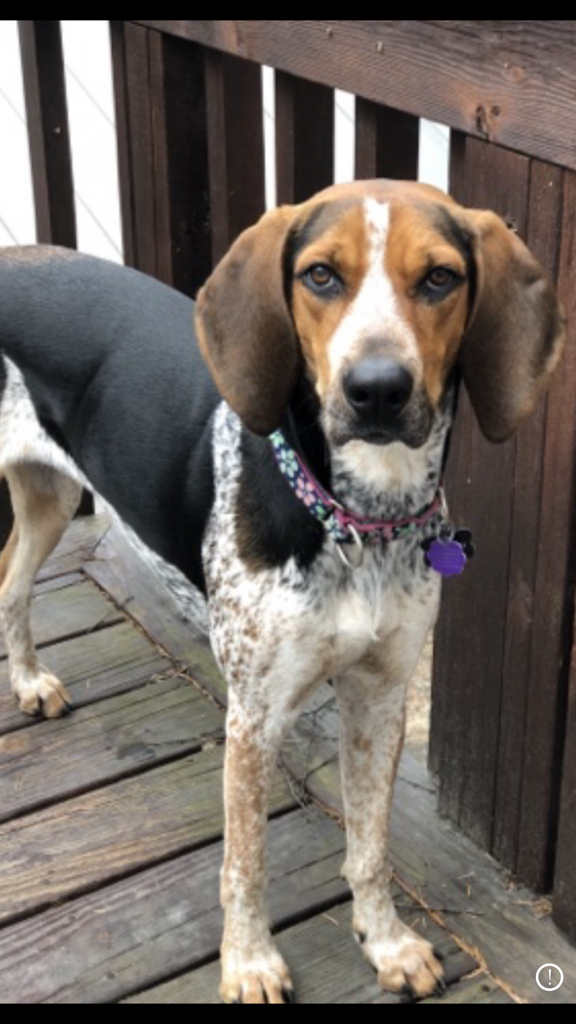 Additional Information
Female
Short Coat
Spay/Neuter
House Trained
Vaccinations Current
Okay With Small Children
Dog Friendly
More About Sadie
If you LOVE HOUNDS, you need to meet Sadie! Sadie is most likely a Bluetick Walker Coonhound, approximately 3 years old, and 55 lbs. She is house and crate trained, but is allowed free run of the first floor when home alone as she has nice house manners. Sadie is a very social and loyal companion. She does like to be the boss, or the "sheriff," as they call her at doggy day care, so she might be a better match with an older male dog in a new home, or submissive female, even though she is friendly with most all other dogs…a feline-free home would be best. Sadie is gentle and sweet with grandchildren, ages 2 and 5, and allows them to hug and kiss her, so sharing a home with respectful children would be A-okay with Sadie.
Sadie is happiest and at her best when she gets daily exercise. She walks nicely on a gentle leader and does not pull, unless of course she sees an animal, then she will pull and is very strong. She requires long, brisk walks or hikes, with lots of time to sniff, and would love to engage in some scent games, obedience training, or dog sport to give her some mental stimulation and exhaust her energy. Then she is completely content to sack out on the couch! Or chew a bone or stuffed Kong are her favorites. Like clockwork, she puts herself to bed for the night around 8:00 p.m. She seems to be drawn to men, maybe she was a hunting dog before arriving at the shelter and perceives men as her ticket to some fun activity. A fenced in yard would be a plus where she can roam freely and play games with her family, she cannot be trusted off-leash as she is easily distracted by scents and her nose just gets the best of her!
If Sadie sounds like a suitable, furry companion for your home, apply to adopt http://longtraildogs.org/adoption-application/ e-mail lisa@longtraildogs.org